Last Sunday, I started off the day with baking peanut cookies. The recipe was obtained from Karlskrona who posted on the Imperial Kitchen (thanks, Karlskrona!). The recipe was certainly quite simple, really a 1-bowl cookie. It certainly didn't take long to churn out the following:

Here's a close-up....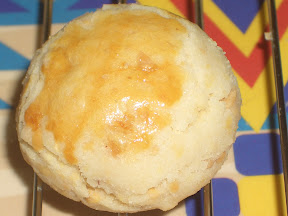 Looks pretty, but hubby and dad thought that there could be more peanut flavour. Also, this cookie is too crunchy for my liking – I like this type of cookie to be melt-in-the-mouth. So, this went back to the test kitchen today for further experimentation. This time, peanuts were roasted (thanks, hubby!), peanut butter was added, balls were smaller and cooking time reduced. The results: more peanutty flavour and a melt-in-the mouth texture. However, I think I did a lousy job in glazing the cookies....somehow, it didn't have the lovely golden brown sheen....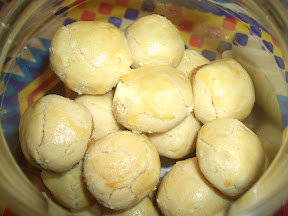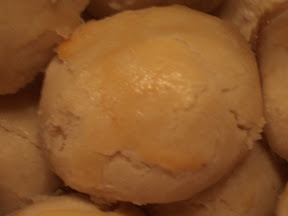 Calla's notes on the recipe (I quartered the measurements):

I used deshelled peanuts in this recipe. I roasted them in the pan, leave it to cool, then grind.


I added approximately 2 tbsp peanut butter to enhance the peanutty flavour (re: ¼ recipe).




I used 85ml ground peanut oil to bind the dough together (re: ¼ recipe). This has to be monitored. I started off with 60ml, then add bit by bit till mixture binds into a dough that wipes the sides of the bowl clean.





I baked at about 160 deg C for 10 min, rotating the tray approximately after 5 min. I didn't use the top heating element this time, as I felt the oven was too hot. Perhaps that's why the tops did not have the sheen.